With Donald Trump's election, an open vacancy on the Supreme Court, and a Republican Congressional majority determined to repeal Roe v. Wade, a state lawmaker in Indiana is banking on a total abortion ban being upheld by a radically altered Supreme Court.
The Northwest Indiana Times reports that Republican State Rep. Curt Nisly has announced he is planning to file "Protection at Conception" legislation when the General Assembly convenes in January.
His proposal, if passed by the Republican-controlled state legislature, would "prohibit all abortion in Indiana in all circumstances and authorize the criminal prosecution of any doctor or woman who participates in an abortion."
Nisly told the Times: "It's time to bring the Roe v. Wade era to its logical conclusion. My goal is to deregulate abortion right out of existence in Indiana."
Indiana has led the nation in the number of abortion restrictions and is one of the worst states for reproductive rights, ranking among the least safe states in which to be pregnant with either a wanted or unwanted pregnancy.
Thus, there is clearly significant interest among Republican legislators in the state to pursue anti-abortion measures, but it is unclear if Nisly's desire to criminalize both physicians and abortion-seeking people will be a bridge too far.
However, the president-elect's recent comments during his 60 Minutes interview with Lesley Stahl leave open the possibility that states like Indiana will feel empowered to go further than they had previously. Trump affirmed his commitment to appointing anti-choice justices and said if Roe v. Wade "ever were overturned, it would go back to the states. …Perhaps [abortion-seeking people] will have to go to another state."
Letting abortion rights "go back to the states" would be incredibly regressive and damaging. Pregnant people in places like California or New York with the means to pay for an abortion would likely still have access to abortion; people of lower or middle incomes in places like Indiana or Texas, obliged to travel long distances to the nearest abortion clinic, would not.
The final electoral map of the 2016 election shows just how onerous this would be for some Americans: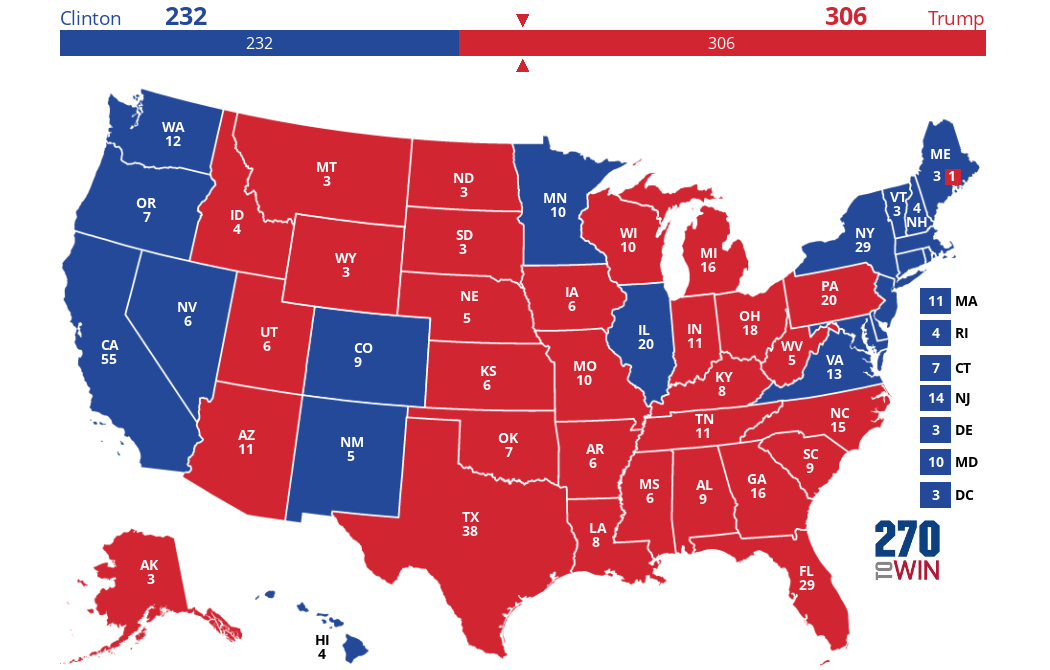 Click the map to create your own at
270toWin.com
Someone living in, for example, Baton Rouge, LA, would have to travel roughly 650 miles to Belleville, IL to find an abortion clinic.
What Trump is proposing is an egregious breach of the undue burden standard, but Trump has signaled in a number of ways during his first 10 days as president-elect that he is not particularly concerned with the old standards.
And state legislators have clearly been emboldened by that message.
(Alison R. Parker contributed to this article.)